We have gotten used to camera phones with 8MP rear shooters but guess what? Nokia has officially unveiled its Nokia 808 camera smartphone at the 2012 MWC. What's so special about this phone? The mere fact that its name sounds like an average Nokia handset you won't even think that it packs a massive 41MP camera sensor! Now, that's what you call as a true blue camera smartphone.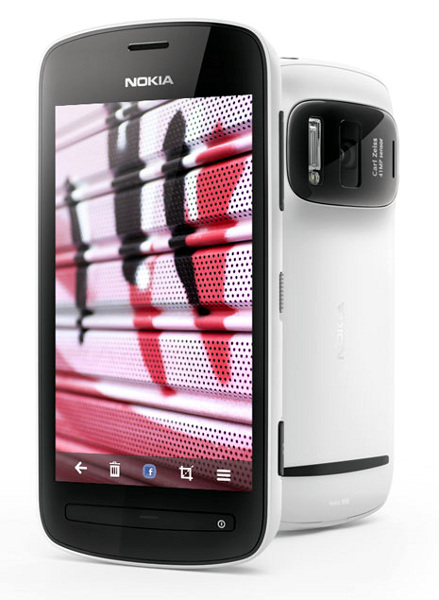 Well then, allow us to tell you that the Nokia 808 sports the looks of what you can probably call as a futuristic-looking smartphone. If you take a close look at its press shot, you'll be able to notice that its 41MP rear camera shows a prominent curve. But that's not all. You'll also be able to indulge yourself with the phone's exclusive Carl Zeiss optics lens with Xenon flash that could capture and record your favorite moments in 1920 x 1080 pixels of full HD (high-definition) resolution. Certainly, this phone will attract a lot of photo enthusiasts! Plus, you'll be able to experience what it is really like to record a high quality video with Dolby Digital Plus for superb audio playback.
Furthermore, it is quite interesting to know that the Nokia 808 won't run on Microsoft's Windows Phone mobile operating system. Instead, it will run on Symbian Belle and it will be powered by its ever-reliable 1.3GHz single-core processor. And before we forget, the smartphone will flaunt its 4 inch ClearBlack AMOLED Display with 640 x 360 pixels of full screen resolution. You also don't need to worry about the phone's delicate screen as it will be coated with a scratch-resistant Corning Gorilla Glass protection. Obviously, you'll need a decent amount of memory to be able to indulge yourself with high-res photos. Imagine how it would be like to take a panoramic shot of your surroundings using the phone's massive camera sensor. By that, we mean that you can take a couple of shots without worrying about the storage capacity of your handset. That's because the Nokia 808 packs an ample amount of internal storage (around 16GB) and you can also depend on its 48GB of expandable storage. In terms of connectivity, the smartphone can take pride of its Bluetooth 3.0, Wi-Fi 802.11 b/g/n, DLNA, NFC, HDMI and 3G HSDPA network. The phone will be equipped with a 1400 mAh battery.
Currently priced at 450 Euro, the Nokia 808 will be made available in May. You can choose among its white, black and red colors.