While almost every smartphone manufacturer making buzz about their upcoming devices and releases, Apple couldn't stand being left behind doing nothing. That's why on Monday, a report indicated that the Cupertino-based technology titan will be releasing a new model of its famous iPhone this time with bigger display and newer, sleeker look.
Brian White
, Topeka Capital Markets analyst, received information during his meeting with suppliers in China that the next generation iPhone will completely be different and new. A
new 4-inch screen
is supposed to be used for the
iPhone 5
and will come with a Unibody case to have a sleeker appearance, White said.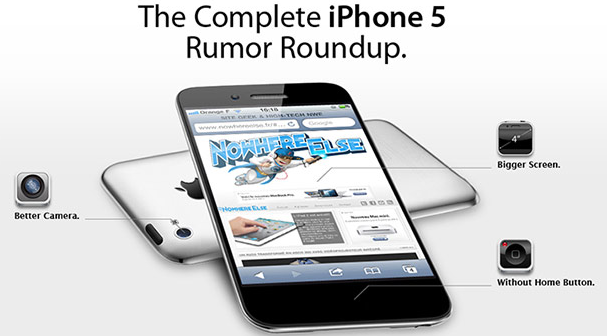 Moreover, Apple might give its go signal to begin fabrication of
iPhone 5
parts in June. If it will go in that time range, it is possible that we will be able to see the new iPhone in August or September. Well, no one really knows what will become the official name of the
next generation iPhone
. Others call it, iPhone 4S refresh, and some call it
iPhone 5
and that include us here. Maybe Apple will call it the
New iPhone
when released just like its New iPad. But anyway, if the rumors were true, then it won't take long before we can see another stunning device from the technology giant.
The 4 inches screen or display will definitely be larger than what the current iPhone has (3.5 inches) but it will never be huge that it will lose its sense of pocketability. Most of the smart phones released by other manufacturers have
4 inches displays
or even bigger but iPhone owners are stuck with 3.5-incher because according to the late Steve Jobs, it is the perfect size for everyone in which many tech enthusiasts also agree. However, the plan of inducing Apple's
newest Retina Display
technology may require larger displays. If this will be realized, then next gen iPhone owners will enjoy a resolution around 768 x 1024 pixels and ~316 PPI. Alongside these rumors come another suggesting that it may sport an
A5X chip
and 1 GB RAM just like the New iPad.
The
4G LTE
is also cited by tech enthusiasts to be one of the features of the
new iPhone
to be able to cope up with the latest trends in the world of smartphones. We don't know the exact release date as well as the price because basically the production hasn't been started yet. But there is always truth behind these rumors. What they are will be revealed in due time. Anyway, if you are an iPhone 4S owner, would you buy this iPhone? Or does it even make an appeal to you?
Source: Techzek.com