Admittedly most mobile device aficionados are probably more accustomed to seeing Qualcomm's name featured on the chips within their smartphones and tablets, but from time to time the manufacturer does come out with its own devices to showcase something special.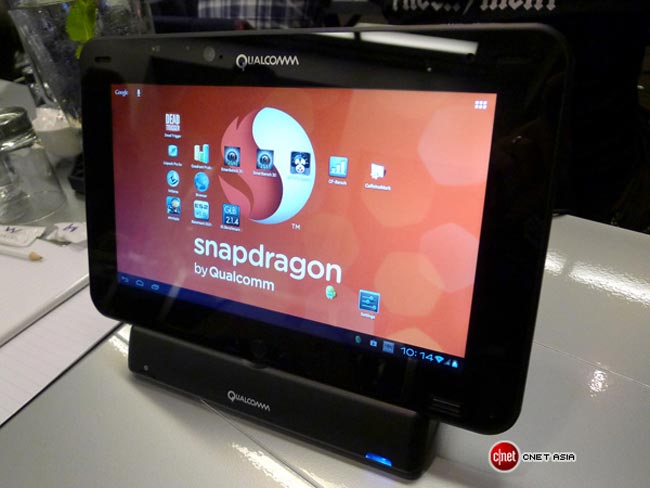 This time, it is showing off its new APQ8064 Snapdragon S4 quad core processor that should allow it to finally compete head to head against other manufacturers that have quad core mobile processors of their very own such as the Samsung Galaxy Exynos 4, and Nvidia Tegra 3.
Early benchmark tests of the new processor seem to put it on par with its competitors. In some benchmarks it surpasses them, but in others it lags slightly behind.
One of the first tablets (apart from this one) that will feature the new S4 quad core processor is the Asus Transformer Pad Infinity 4G version. After that it will probably start appearing in other Android and Windows tablets, but it could be some time before it is seen in any smartphone.
For now, this particular Qualcomm tablet will apparently be sold at a rather pricey $1,299 and is intended to be a Mobile Development Platform for developers to create and test programs and see how they run on the new chipset.
Apart from the new processor, this tablet will feature the new Adreno 320 GPU, 2 GB of RAM, a 13 Megapixel rear camera with a flash, and a 10.1 inch WXGA display with 1366 x 720 resolution. It will ship with Android 4.0.4 Ice Cream Sandwich, and there is no word as to whether or not an update to Jelly Bean will be provided at any point in time.
All in all, it is a pretty upmarket device but it certainly has top of the line specifications that are going to be giving developers and tech enthusiasts alike some serious wet dreams.
Source: http://www.techzek.com/qualcomm-quad-core-snapdragon-s4-tablet-announced-at-1299/