Another LG device that has leaked out recently is the LG Cayenne, and it should be making an appearance on the Sprint network fairly soon.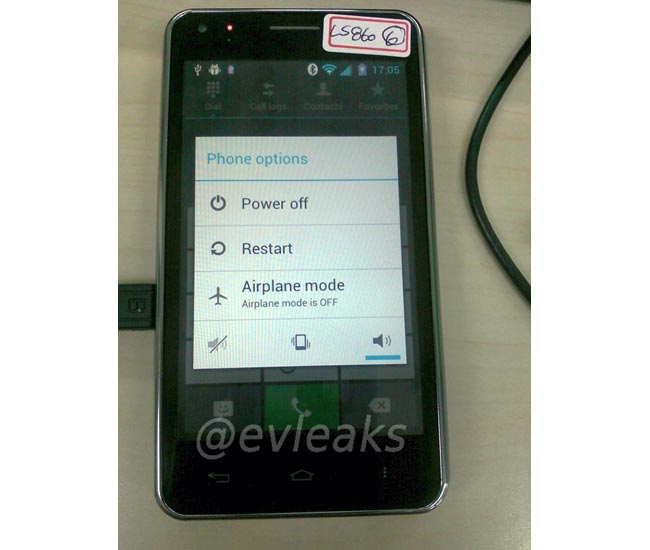 Along with the pictures that were in the leak, there was also a little bit of information provided about the new smartphone. Supposedly it will feature a 4 inch qHD touchscreen display with WVGA resolution and will run on a Snapdragon S4 processor that had previously been said to be a dual core processor that clocks in at 1.2 GHz.
For those unfamiliar with the jargon, qHD basically means a quarter of full HD, and so an approximate resolution of 960 x 540 on a 16:9 aspect ratio. Chances are the LG Cayenne will sport a different aspect ratio hence possess a different resolution.
In addition, the pictures themselves show three Ice Cream Sandwich capacitive keys that tie in with previous rumors that the Cayenne will indeed feature Android 4.0.4 Ice Cream Sandwich.
Other rumors have also suggested a 5.0 Megapixel camera, slide-out QWERTY keyboard, 1 GB RAM, and 4G LTE capability.
Although there are ample rumors about this smartphone, there is still no word from Sprint or LG as to when it will actually see the light of day and be released. Even the name 'Cayenne' is supposedly a codename for the LG device and there is a high chance that it may be released under a different moniker.
If certain rumors are true, the LG Cayenne is getting its certifications sorted out and may be released as early as next month. Assuming that is the case, it might be a nice mid-range smartphone that is in line with some of the other mid-range devices from Samsung and other manufacturers that are scheduled to make an appearance soon as well.
Hopefully an announcement will come soon that will furnish everyone with more details regarding what to expect from this new LG device.
Source: http://www.techzek.com/lg-cayenne-for-sprint-pictures-leaked/