Earlier this year, Intel Corporation and Lava International Ltd had announced their partnership in providing the latest smartphone powered by Intel's newest mobile processor to the ever growing smartphone market of India. The partnership was disclosed to the public during the MWC in Barcelona that was held last February 2012.
Analysts believe that India's smartphone market have been growing three times faster than any other global market, making it a viable market to introduce the latest
Intel Medfield processor
. The partnership has led to the development of
Lava's flagship smartphone
,
Lava XOLO X900
that is expected to be
released all over India
this 23rd of April. Lava has also entered a long-term partnership with Croma, a national mega store chain that offers consumer electronics and durables, for promotion and sale of their latest smartphone.
Critics say that Intel will have a hard time in entering the smartphone market since it is relatively new in this sector of the computer industry. However, the release of Lava XOLO X900 seems like to prove that Intel's entry will be a force to be reckoned with. Companies that thrive in the mobile computing sector should rethink their plans as Intel, though taking it one step at time, will surely take its rightful throne and dominate the smartphone market in the coming years.
Lava XOLO X900 shows a lot of potential in the smartphone market and its specifications and features are surely making consumers eager to grab a hold of this one of a kind device. Now, let's examine what this much awaited smartphone has in store for us.
Design & Screen
The XOLO X900 offers a sleek minimalistic design with a soft plastic finish for its back cover. Ports are well placed for easier usability. The left side of the phone is where the HDMI port is located that allows users to hook up their devices on an HDTV. The micro USB port for power and PC connection is located at the bottom of the phone. The camera button, micro SD slot, and the volume control are located at the right side. The top consists of the power button and the headphone jack.
XOLO X900 is equipped with a high-resolution
4.03-inch LCD touch screen
that generates crisp text and vibrant images. The LCD screen has a resolution of 1024 x 600 and a pixel density of 295 PPI, which higher than the screen resolution of the Apple iPhone 4S and Samsung Galaxy S II. Its resolution is similar to the screen resolution of 7-inch and 10-inch Android tablet devices, which allows the phone to run apps and games that were intended for tablets. The high resolution display also supports multi-touch input similar to other devices.
Hardware, Performance & Connectivity
Lava XOLO X900 will house the latest
Intel Atom Z2460
, also known as Intel Medfield, which features a single Atom core with a 512KB L2 cache, a PowerVR SGX 540 GPU and a dual-channel LPDDR2 memory interface. The processor also features the Intel Hyperthreading Technology. Intel's latest processor may not be that shocking, the presence of Cortex A9 and PowerVR SGX 544MP2 in the smartphone market. But the performance really gave the clear answer on what this latest processor can do. According to the SunSpider Javascript Benchmark 0.9.1, Intel Medfield outscored Samsung Galaxy Nexus, and other smartphones such Apple iPhone 4S, Samsung Galaxy S II, Motorolla Droid X2 and Motorolla Droid RAZR by a large margin. Its performance is consistent as BrowserMark also reported similar results with SunSpider. The performance of Lava XOLO X900 will set a high standard in the global smartphone sector.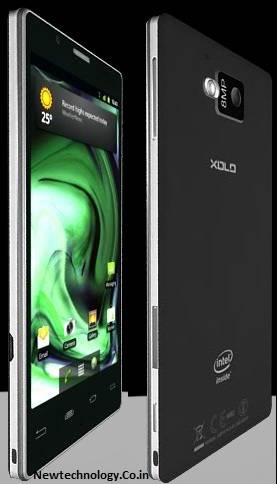 Intel Medfield also provides a better 3D performance compared to other smartphones due to its 400MHz GPU clock. Medfield is better than the OMAP 4460 GPUs since most of these GPUs are only clocked at around 300MHz.
The Lava XOLO X900 is equipped with 1GB of RAM. It also features an HDMI output 1.3a that allows the device to be connected to an HDTV, a feature that will be convenient for displaying presentations in the office as well as for sharing videos and games with the family. The device also has NFC support that will allow radio communication between other smartphone devices. Its applications may include contactless transactions, data exchange and simplified setup of other more complex communications such as WiFi. Users can link their Google Wallet or MasterCard PayPass with the device. In India, NFC transactions are being implemented in cinema theaters for ticketing purposes.
Mobile Internet needs of consumers is addressed by the Lava XOLO X900 through its High-speed 3G HSPA+ network capability that can have a connection speed of up to 21 Mbps. The device will also feature Bluetooth connectivity as well as wireless LAN to allow easier access to the internet. Hands on observations of the XOLO X900 also showed that the device has a very fast browser as compared to other smartphones. GPS navigation is also possible with this device. For transferring files or to sync the device to a PC, the device has a microUSB port at the bottom that will also serve as the power source for
charging the battery.
Unfortunately, the Lava XOLO X900 will be sold with a later version of the Android OS,
Android 2.3 Gingerbread
. Intel and Lava have announced that an over-the-air (OTA) update will be available soon for the device, allowing OS update to Android 4.0 Ice Cream Sandwich. However, the exact date for the update has not yet been released.
The device will also have access to the Android Market, a normal feature for Android-based devices. However, due to the high screen resolution, more apps can be installed in this device such as apps that are installed on tablets.
Camera & Storage
Fast processing speed and high-quality display is not the only impressive feature of the Lava XOLO X900. The device also features an
8 megapixel camera
with flash capability. It has full HD video recording feature that can record high-definition videos in 1080p resolution. The camera is also optimized for low lighting conditions to broaden the functionality of the camera even if the scene has low light. The camera offers features that can be found on digital SLRs, like adjusting the fps or switching into a burst mode. The user can also choose from several scene modes such as Sports, Portrait, Landscape, Night, Night portrait, Fireworks and text. The focus finder can also be adjusted with options of Auto, Infinity, Macro and touch focusing. White balance and ISO can also be adjusted with a few simple tap. The camera also features a shooting burst mode that takes 10 high-quality photos in a second. It also features a 1.3 megapixel secondary camera for video calling.
The device comes with internal storage of 16GB that is well enough to store games, photos, and HD videos.
Battery
We may be thinking that since XOLO X900 runs a faster processor battery time would also be greatly reduced. But this is not the case, Intel's Medfield processor seems very competitive to other smartphones. Power test runs on the reference platform and competitive devices showed that the processor has a lower power usage during standby as compared with Apple iPhone 4S and Samsung Galaxy S II. Intel Medfield also has a lower power usage during browsing as compared to both phones said earlier. Power consumption during Talk time and Video playback at 720p is relatively close to the values obtained from the other devices.
Intel's technology provides its users high-performance usage while maintaining a long battery life. The manufacturers of XOLO X900 reported a battery life of up to 5 hours of 3G browsing, 45 hours of audio, and 8 hours of talk time.
Conclusion
The Lava XOLO X900 has truly set a higher standard in smartphones, the raw performance of this device will provide its users superb quality in entertainment and gaming. Game developers will also have a renewed enthusiasm in developing mobile games that have great graphics and 3D content due to the potential of smartphones with Intel inside.
It houses Intel's latest Medfield processor with a clock speed of 1.6 GHz with HyperThreading Technology. The chip also comes with a 400 Mhz graphics processing unit. Having these two features combined, the XOLO X900 can provide its users the best speed and visual experience from a smartphone. The phones' 8 megapixel camera will complete the package of this device, equipped with a flash and the capability of taking high-quality images even in low lighting conditions makes it very convenient and it can even replace the need of having a point-and-shoot camera.
All in all, the Lava XOLO X900 is a must have. For all you smartphone lovers out there, the long wait is almost over. Coming the April 23, 2012, this powerful smartphone will be
available in India at a price of Rs. 22,000
or around US$445. Be sure to visit the nearest Croma store or log on to www.lavamobiles.com for more info about the product and find dealers near you.
Source: http://www.techzek.com/lava-xolo-x900-review-specs-price-features/