Apple wants to start the second half of 2012 with a bang. Just today, the Cupertino-based technology giant announces its new generation of MacBook Pro which will sport the new display technology known as Retina Display. Boy Genius Report India (BGR.in) reported that they have received an official pricing from Apple citing that the base model of the new MacBook Pro will be offered for 152,900 Indian Rupees while the model which sports higher specs will be marketed having a price tag of 192,900 Rupees.
Basically, the new generation of MacBook Pro offers powerful specs with spectacular display. If you've been following Apple's New iPad, you must be familiar with its newest technology dubbed simply as "Retina Display." This is one of the most popular features of this year's iPad considering it offers 3.1 million pixels distributed in a 9.7-incher display on the tablet. With higher resolution than typical tablets, the New iPad goes beyond any expectation as far as display is concerned. Now, Apple wants to give a boost to its MacBook Pro's reputation by porting Retina Display technology into its laptop computers.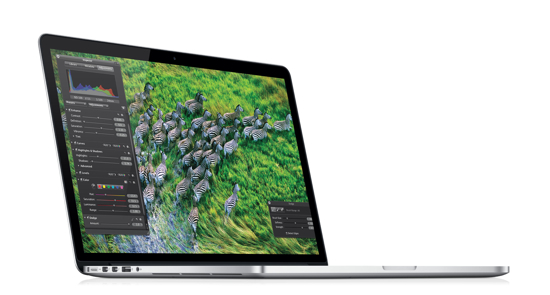 For Apple lovers, you can choose either a model that features Retina Display or the one that doesn't. If you were to look into the Retina Display models, there would also be two variants; the other comes in base specs while the other on the higher scale. But both come with 15-inch displays and have almost the same hardware. For the variant with lower specs, it also comes with Intel Core i7 processor clocked at 2.3GHz but has a Turbo Boost of up to 3.3GHz. It has 256 GB of Flash storage which others say a little bit low for a powerful computer.
The other variant has also been given Intel Core i7 processor but was clocked higher at 2.6 GHz with Turbo boost of up to 3.6GHz. The biggest difference between these two MacBook Pros is that this variant comes with 512GB of Flash storage doubling the one given for the other. But aside from this, both of these devices were given equal shares; 8GB RAM, Intel HD Graphics 4000, NVIDIA GeForce GT 650M with 1GB of GDDR5 memory and automatic graphics switching, and dual display and video mirroring which simultaneously supports full native resolution on the built-in display and up to 2560 x 1600 pixels on up to two external displays, at millions of colors.
We've been hearing about Apple's OS X Mountain Lion for a while. The good news is that, it would be offered as operating system for these two devices together with other in-built software like Mail, Address Book, iCal, the Mac App Store, iTunes, Safari, Time Machine, FaceTime, Photo Booth, Mission Control, Launchpad, AirDrop, Resume, Auto Save, Versions, Quick Look, Spotlight, QuickTime and more. Basically, if you wish to buy one of MacBook Pro, you will be paying a premium price but make no mistake of thinking that it's not worth it because it is worth every penny you spend on it.