The Taiwanese monitor manufacturer revealed its newest entry into the Android market. The Hannspad SN70T3 was announced in the United Kingdom (UK) today to compete in the Android 4.0 Ice Cream Sandwich market. SN70T3 is actually a 7-inch tablet which will be marketed in UK and Europe for just £99.99. While the manufacturer is known being one of the best computer monitor manufacturers, it has started its campaign in the mobile market a few years ago. In fact, it has released a few tablets in 2011 bearing fairly high specs featuring the then popular Tegra 2 chipset from Nvidia. In September, it has also released a 10.1-inch Android tablet the company dubbed as HANNSpad SN10T1 which runs on ARM-based Tegra 2 architecture. The point is, it is not the first time Hannspree released this sort of device so we can expect a little better this time.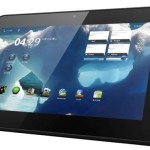 Hannspree HANNSpad SN70T3 was given an ARM Cortex A8 processor clocked at 1GHz which is paired with 512MB of RAM. Apparently, these specs imply that this slate will not be competing in the high-end market, rather in the low-end, budget-friendly market. Its CPU is never impressive after all. We've already seen budget-friendly tablets bearing specs higher than this device can offer so we can say that Hannspree is trying to produce a relatively cheap price with lower specs.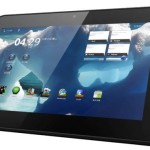 Being an expert in building monitors, we can almost expect that the display panel for this device would be better than any other budget-friendly slates in the market today. However, that's not the case because aside from its mediocre processor, HANNSpad SN70T3 also gets a mediocre 7-inch display panel with 800 x 400 pixels resolution (16:10 aspect ratio) and LED backlighting. The only positive side with its display is that it supports 5-point multi-touch functionality, other than that there's nothing you can expect more. And before I forget, it comes with 0.3-megapixel front-facing camera.
Storage-wise, HANNSpad SN70T3 sports 4GB flash memory with microSD card reader. While we can't say it is huge enough, at least, we're not getting less than what other cheap tablets offer. There is no mention of Bluetooth but I believe it supports such connectivity together with Wi-Fi 802.11 b/g/n. Its battery offers 3000mAh that could power it up for up to 5 hours but nothing more and we can say it is also a half-hearted power source considering there are other cheap tablets that sport 5000mAh batteries.
According to the official press release, Hannspree HANNSpad SN70T3 will be made available by the end of June for just £99.99. It will come with several apps pre-installed like, Music, Gallery, Settings, Camera, Calculator, Clock, Downloads, Browser, Calendar, Email, Voice Recorder, Search, 1Mobile App Market, Camangi App Market, Adobe Reader, File Explorer, and Note Everything. Obviously, this is not a really impressive device. There could be people that might purchase a unit but I guess it couldn't attract good following like the ones from known and popular manufacturers. Nevertheless, this is a tablet worth-mentioning because it bears the latest Android version despite having mediocre specs.